Data science has emerged as a critical field in the digital age, driving data-driven decision-making across industries. DataCamp, an online learning platform, has positioned itself as a prominent resource for individuals seeking to master data science. In this comprehensive review, we will delve into the various facets of DataCamp, from its core offerings and user experience to its pricing, features, pros and cons, customer support, and ultimately, whether it's the right fit for you on your journey to mastering data science.
What is DataCamp?
DataCamp, founded in 2013 by Jonathan Cornelissen, Martijn Theuwissen, and Dieter De Mesmaeker, is an e-learning platform designed specifically for data science, data analysis, machine learning, and related fields. With the mission of democratizing data science education, DataCamp has rapidly grown to serve millions of learners worldwide.
How to Use DataCamp
Using DataCamp is a straightforward process, making it accessible for beginners and experienced learners alike:
Account Creation: Start by creating a DataCamp account. You can sign up with your email address or use your Google or Facebook account.
Choose a Learning Path: Once you have an account, you can browse DataCamp's extensive catalog of courses. Beginners can start with foundational courses, while experienced data scientists can dive into more specialized topics.
Course Selection: Select a course that aligns with your learning goals. Each course is divided into bite-sized lessons, typically consisting of video tutorials, coding exercises, and quizzes.
Hands-On Learning: DataCamp's interactive coding interface allows you to practice what you learn directly within the platform. This eliminates the need to set up a local development environment, making it especially accessible for beginners.
Progress Tracking: As you progress through courses, DataCamp tracks your completion and performance, providing a clear view of your development over time.
Community Interaction: DataCamp has a community forum where learners can ask questions, discuss course material, and seek help from both instructors and fellow students.
Who is DataCamp For?
DataCamp is designed to cater to a wide range of learners:
Beginners: Individuals new to data science can start with DataCamp to build a solid foundation in data analysis, programming, and statistical concepts.
Intermediate Learners: Those with some prior knowledge can explore more specialized courses on machine learning, data visualization, and big data technologies.
Experienced Data Scientists: DataCamp offers advanced courses and tracks to help experienced data scientists deepen their expertise in niche areas.
Professionals and Career Changers: DataCamp is a valuable resource for professionals looking to transition into data-related roles, such as data analysts, data scientists, or machine learning engineers.
Pricing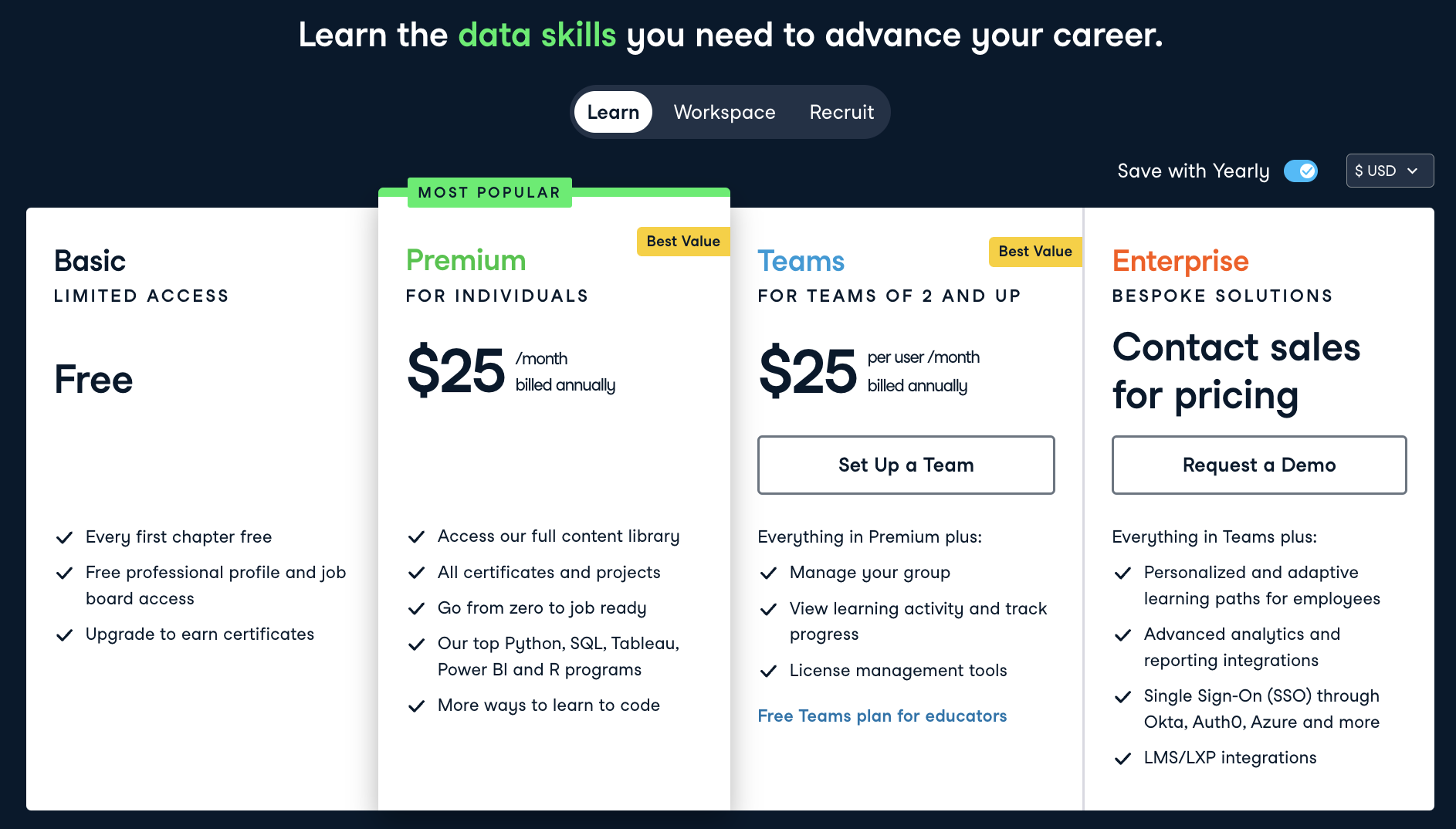 DataCamp offers a variety of pricing plans, including:
Free: The free plan includes access to a limited selection of courses and projects.
Premium: The premium plan includes access to all of DataCamp's courses and projects, as well as personalized learning recommendations and career support.
Team: The team plan is designed for businesses and organizations who want to provide their employees with access to DataCamp's courses and projects.
It's important to note that pricing can change, and DataCamp may introduce new plans or features after my last update. Therefore, I recommend visiting the official DataCamp website to check the most current pricing and subscription options.
Features
DataCamp offers a variety of features, including:
DataCamp Certifications
DataCamp certifications are industry-recognized credentials that demonstrate your skills in data science and analytics. DataCamp offers two levels of certification for both data analysts and data scientists: Associate and Professional.
Associate certifications are designed for beginners and cover the fundamentals of data science and analytics, such as Python, R, SQL, and data visualization.
Professional certifications are designed for more experienced professionals and cover more advanced topics, such as machine learning, natural language processing, and big data.
To earn a DataCamp certification, you must complete a series of courses and pass a final exam. The courses are interactive and hands-on, and they cover a wide range of topics, from the basics of data science to more advanced topics such as machine learning and deep learning.
DataCamp certifications are highly respected by employers in the tech industry.
Forbes' rating of DataCamp
Forbes Advisor, a financial advisory website, recently rated DataCamp as the #1 data analytics certification program. Forbes cited DataCamp's high-quality courses, hands-on learning approach, and job-ready skills as the reasons for its top ranking.
Forbes also noted that DataCamp is well-respected by employers in the tech industry. According to a recent survey by Indeed, DataCamp is the most sought-after data analytics certification by employers.
Benefits of DataCamp certifications
There are many benefits to earning a DataCamp certification, including:
Increased job prospects: DataCamp certifications are highly respected by employers in the tech industry. Earning a DataCamp certification can give you a significant advantage in the job market and help you land your dream job.
Higher salary: DataCamp certified professionals earn a higher salary than their non-certified peers. According to a recent survey by PayScale, DataCamp certified professionals earn an average of 15% more than their non-certified peers.
Career advancement: DataCamp certifications can help you advance your career in data science and analytics. Earning a DataCamp certification can demonstrate to your employer that you have the skills and knowledge necessary to take on more challenging and rewarding roles.
DataCamp offers a variety of certifications to choose from, depending on your interests and career goals. Some of the most popular DataCamp certifications include:
Data Scientist Certification
Data Analyst Certification
Machine Learning Engineer Certification
Data Engineer Certification
Statistician Certification
If you are interested in pursuing a career in data science or analytics, earning a DataCamp certification is a great way to get started. DataCamp certifications are highly regarded by employers and can help you gain a competitive edge in the job market.
Pros of DataCamp
Comprehensive Content: DataCamp offers an extensive range of courses, ensuring there's something for learners at all levels.
Interactive Learning: The platform's hands-on approach, in-browser coding, and interactive exercises provide an immersive learning experience.
Community Support: DataCamp's community forum and support channels enable learners to seek help and engage with a supportive community.
Flexible Learning: You can access DataCamp from anywhere with an internet connection, enabling self-paced learning.
Regular Content Updates: DataCamp frequently updates its course content to reflect the latest trends and technologies in data science.
Career Tracks: DataCamp offers curated learning paths for specific data science roles, helping learners reach their career goals.
Cons of DataCamp
Subscription-Based Model: While DataCamp offers a free trial, access to the majority of content requires a subscription, which may be expensive for some learners.
Limited Specialization: While DataCamp covers a broad spectrum of topics, it may not provide the depth of specialization required for advanced professionals in niche areas.
Customer Support
DataCamp provides customer support through various channels:
Community Forum: The forum is an excellent place to seek help, ask questions, and discuss course material with both instructors and fellow learners.
Email Support: You can reach out to DataCamp's support team via email for more personalized assistance.
Help Center: DataCamp maintains a comprehensive help center with articles and FAQs to address common queries.
Conclusion
DataCamp is a great platform for learning data science. It offers interactive courses, self-paced learning, expert instructors, real-world projects, and affordable pricing. If you are serious about learning data science, I highly recommend checking out DataCamp.
You can also take advantage of DataCamp's free trial to explore the platform and evaluate its suitability for your learning goals. DataCamp's blend of theory and practical application positions it as a valuable tool for anyone seeking to excel in the dynamic and ever-evolving field of data science.
Latest posts by Hershel Reyes
(see all)