What is MasterClass?
Founded in 2014 (originally as Yanka Industries, Inc.) by Stanford student, David Rogier, MasterClass launched its website the following May with only three instructors. Twelve classes were later added in 2017 before the total drastically jumped to 50 by 2018.
MasterClass classes are taught by respected and renowned experts and celebrity instructors in a series of high-quality video lessons, typically with a supplemental workbook that can easily be downloaded and printed for further reference.
Every course contains between 2 to 4 hours of video divided into single class lessons that are approximately 10 to 15 minutes long.
In 2021, MasterClass rolled out a new learning feature called Sessions by MasterClass. Previously, if students wanted to expand their level of knowledge or want to ask questions, each class had its own individual online portal called "The Hub" where students could interact with other students and MasterClass moderators.
Sessions is a new "hands-on" format where students learn in a structured curriculum alongside one another within 30 days. Each session comes with dedicated and trained Teaching Assistants who are available to help answer questions and provide feedback.
How much does MasterClass cost?
In 2021, MasterClass began testing alternative subscription models besides their original flat-rate annual membership. Eventually, they settled on a new cost-friendly three-tier MasterClass pricing model for their annual subscription:
Individual – $120 per year (average $10 per month)
Duo – $180 per year (average $15 per month)
Family – $240 per year (average $20 per month)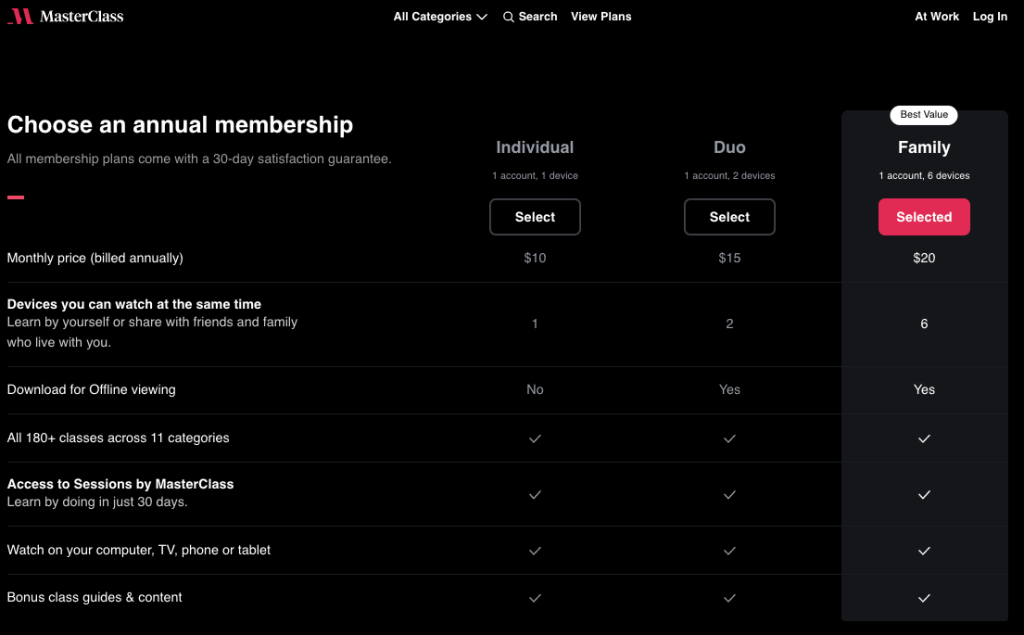 The Individual membership (formerly the "Standard Plan") is perfect for single individuals who are most likely to consume online learning at home. The Duo (formerly the "Plus Plan") and Family (formerly the "Premium Plan") plans are better for couples as MasterClass allows multiple devices to watch at the same time. (Netflix has similar restrictions for their membership plans).
However, the ability to download video lessons for offline viewing is helpful for people who might want to watch MasterClass on their commute to work without eating up most of their data. The Plus and Premium plans offer their users the ability to do just that.
Personally, I go for the $120 per year option as I average about one MasterClass per month, which means my cost per class is $10.
If, for example, you and your significant other wanted to split a MasterClass subscription with the Duo plan, you could boost your creative writing skills with five writing courses (I recommend Neil Gaiman, Malcolm Gladwell, and Margaret Atwood) and your significant other with five cooking classes. $180 for ten courses is $18 per course, which is still a steal in my opinion.
You can always upgrade or downgrade your subscription at a later date. Start with a realistic plan and go from there. The best part is, no matter which subscription plan you choose, MasterClass gives you unlimited access to all their courses. If you recently finished binging Game of Thrones, sign up for MasterClass and binge some Martin Scorsese or Jodie Foster filmmaking courses instead.
And if you are wondering, does MasterClass offer group or bulk licenses? The answer is yes. With MasterClass at Work, you or your business/organization can choose between 5 and 1,000 seats to divvy up to your employees/members. Simply reach out to MasterClass' sales team to sign up. MasterClass at Work discounts range from 5 to 35% depending on the size of the order.
Production Quality and Aesthetic Appeal
MasterClass is undeniably a visually appealing platform. The high production values, cinematic quality videos, and well-designed interface contribute to its allure. The lessons are beautifully shot, often in the instructor's personal spaces or studios, adding an intimate touch to the experience. The platform's sleek design and user-friendly navigation make it easy for learners to access and engage with the content.
Moreover, MasterClass has made a conscious effort to diversify its course offerings, spanning a wide range of topics from cooking to music, writing to sports. This diversity allows learners to explore various interests and acquire new skills, making it a holistic learning platform for personal and professional growth.
The Pedagogical Approach
Under the glossy surface, MasterClass's pedagogical approach is somewhat unconventional. Instead of traditional lectures and structured curricula, it offers a collection of video lessons, workbooks, and assignments. While this flexible, on-demand model has its advantages, it may not be suitable for all learners.
Some critics argue that MasterClass lacks depth and structure in its courses. Lessons often feel like curated highlights of an instructor's knowledge, leaving learners hungry for more comprehensive content. The absence of formal assessments or certifications also raises questions about the platform's educational rigor. While MasterClass is undoubtedly a valuable resource for casual learners and enthusiasts, it may not suffice for those seeking in-depth mastery of a subject.
Interaction and Community
Learning is not a solitary activity, and community interaction can enhance the learning experience. MasterClass has attempted to address this by incorporating features like discussion boards and peer interaction. However, the effectiveness of these features is limited. The community engagement on MasterClass tends to be sparse and lacks the vibrancy found on specialized forums or social media platforms dedicated to specific subjects.
Reasons to invest in a MasterClass subscription
If you've skimmed through this article so far (I don't blame you, who has time for 4,000+ word essays?), then let me give you seven quick reasons why investing in a MasterClass subscription is in your best interest.
Learn from the best instructors in a variety of fields
Content is enjoyable to watch
Discover new subjects worth exploring
You can't beat the cost
Courses are split up into easily digestible, high-production value video lessons
Knowledge improves your well-being
More classes are added every month
Reason number two—the content is enjoyable to watch—doesn't get talked about enough. Even if you agree with all the other six reasons, if MasterClass courses were just…bleh, you probably wouldn't even bother giving it a try.
But that's not the case with MasterClass. Nearly every course I took, I finished over a weekend. I couldn't stop watching the lessons because I wanted to keep learning. It's the same dopamine hit you get from binging your favorite television series, except this time, you end up smarter in the end.
There's something enjoyable about watching experts talk about the thing they love doing. It's why "how to…" tutorial videos are so popular on the internet. We love the idea of seeing something perceived as complex and unachievable broken down into smaller, manageable-sized tasks.
MasterClass does just this, and so much more.
The Verdict: Is MasterClass the Ultimate Learning Experience?
MasterClass undoubtedly offers a unique and visually appealing learning experience. It allows learners to access the wisdom of accomplished experts in a wide range of fields, adding a layer of entertainment and inspiration to education. However, it falls short in terms of depth, structure, and interaction, making it less suitable for individuals seeking comprehensive mastery or a strong sense of community.
Ultimately, whether MasterClass is the "ultimate" learning experience depends on individual goals and preferences. It can be a valuable resource for those looking to explore new interests, gain insight from celebrity instructors, or supplement their learning journey with high-quality video content. However, it may not replace traditional education or specialized learning platforms for those seeking rigorous instruction, structured courses, or active community engagement.
In conclusion, MasterClass offers a unique and engaging learning experience that has found its niche in the online education landscape. It's a valuable addition to the toolkit of lifelong learners and those looking for inspiration from world-renowned figures. However, it's not a one-size-fits-all solution, and learners should carefully consider their goals and learning style before investing in a MasterClass subscription. Ultimately, the journey of learning is a personal one, and MasterClass is but one of many paths available to knowledge seekers in the digital age.
Latest posts by Hershel Reyes
(see all)