In the age of the internet, fan culture has flourished like never before. People from around the world now have the ability to connect, share, and celebrate their favorite sports teams, movies, music, and more. Fandom transcends boundaries and brings together enthusiasts who share a passion for their chosen subjects. Fanatics, a global leader in licensed sports merchandise and fan apparel, has capitalized on this phenomenon by creating an online store that caters to the diverse tastes of fandom. This article takes a deep dive into the world of Fanatics, exploring its history, offerings, customer experience, and the company's impact on the world of online fandom.
Fanatics: A Brief Overview
Fanatics, founded in 1995 by brothers Alan and Mitchell Trager, started as a brick-and-mortar retail store in Jacksonville, Florida, specializing in Jacksonville Jaguars merchandise. However, it didn't take long for the company to recognize the potential of the internet for selling licensed sports apparel and expand its business online. Over the years, Fanatics transformed itself from a local shop into a global e-commerce giant. Today, it is the world's largest provider of officially licensed sports merchandise and a major player in the broader world of fan culture.
The Core Offerings
Fanatics boasts an extensive range of offerings, making it a one-stop-shop for fans across the world. Its product categories include:
Sports Apparel
Fanatics covers a wide spectrum of sports, from the NFL, NBA, MLB, and NHL to niche sports like MMA, NASCAR, and college sports. Whether you're a football fanatic or a hockey enthusiast, there's an extensive collection of jerseys, t-shirts, hats, and more.
Fan Gear
Beyond sports jerseys, Fanatics offers a plethora of fan gear, including foam fingers, pennants, blankets, and more. These items allow fans to showcase their allegiance and add a unique touch to their spaces.
Memorabilia
For those seeking a deeper connection with their favorite teams and players, Fanatics offers memorabilia, such as autographed items, trading cards, and framed collectibles.
Novelty Items
The store also caters to niche interests within fandom, such as pop culture, movies, TV shows, and video games. It's not just about sports; it's about the entire world of entertainment.
Customization
Fanatics allows customers to personalize their merchandise with their names and numbers, adding a unique touch to their fan experience.
Customer Experience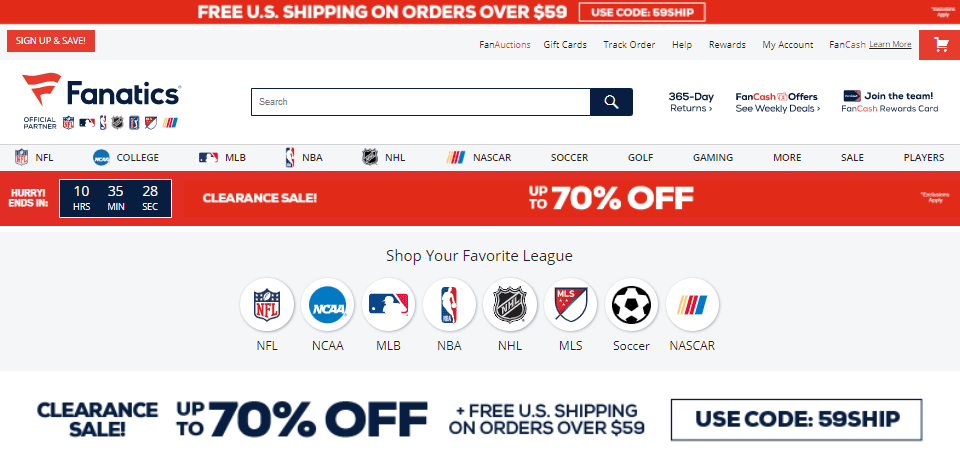 Fanatics has always prioritized its customers, and this commitment shows in the online store's design and features. The following aspects contribute to its exceptional customer experience:
User-Friendly Interface
Fanatic's website is intuitive and easy to navigate. Customers can browse by sport, team, player, or category. The powerful search function makes finding specific items a breeze.
Diverse Payment Options
Fanatics accepts various payment methods, including credit cards, PayPal, and Apple Pay, making it convenient for customers to complete their purchases.
Size Guides and Reviews
To ensure a perfect fit, the site provides detailed size guides for apparel. Customer reviews and ratings help potential buyers make informed decisions.
Mobile Optimization
Fanatics offers a responsive mobile website and a mobile app, making it convenient for fans to shop on the go.
Loyalty Programs
Fanatics rewards its loyal customers with programs like FanCash, allowing shoppers to earn and redeem discounts.
Easy Returns and Exchanges
The store offers hassle-free returns and exchanges, ensuring that customers are satisfied with their purchases.
Impact on Fandom
Fanatics has made a significant impact on the world of online fandom. Here are a few ways in which it has transformed the landscape:
Global Fandom
Fanatics connects fans from around the world, creating a global community that transcends borders. It's no longer limited to local fan bases.
Accessibility
The online platform has made fan merchandise accessible to a broader audience, including those who live far from the physical locations of their favorite teams.
Authenticity
Fanatics ensures the authenticity of its products, giving fans confidence in the quality of their purchases.
Personalization
The option to personalize merchandise allows fans to express their unique identities within the broader fan culture.
Inclusivity
Fanatics' wide range of sports and entertainment options ensures that there is something for everyone, promoting inclusivity within the fandom.
Conclusion
Fanatics, the online store where fandom meets quality, has reshaped the way fans engage with their favorite sports teams and entertainment franchises. From its humble beginnings as a local store in Jacksonville to becoming a global e-commerce giant, Fanatics has created a platform that caters to the diverse interests of fans worldwide. With its vast selection of products, user-friendly interface, and commitment to customer satisfaction, Fanatics has become a trusted name in the world of fandom. As it continues to evolve and expand its offerings, Fanatics remains a symbol of the power of online commerce to connect fans and bring their passions to life.
Latest posts by Hershel Reyes
(see all)