In the realm of footwear, Birkenstock has emerged as a timeless and iconic brand, renowned for its unparalleled combination of comfort and fashion. Established in 1774 in Germany, Birkenstock has a rich history rooted in craftsmanship, quality materials, and innovative design. This detailed review aims to delve into the various facets of Birkenstock, exploring its history, design philosophy, comfort features, fashion appeal, and the brand's enduring popularity.
Historical Evolution
Birkenstock's journey began over two centuries ago when Johann Adam Birkenstock registered as a shoemaker in a small German village. The brand gained prominence in the 1960s and 1970s, becoming synonymous with the counterculture movements of the time. However, it wasn't until the 1990s that Birkenstock experienced a resurgence, propelled by a growing appreciation for comfortable, durable footwear.
Design Philosophy
Central to Birkenstock's design philosophy is the concept of contoured footbeds. Unlike conventional flat insoles, Birkenstock's footbeds are anatomically shaped to mimic the contours of a healthy foot. This attention to detail ensures proper weight distribution, support, and alignment, promoting overall foot health.
The footbed is crafted from a unique blend of cork and latex, providing a flexible and shock-absorbing foundation. Over time, the footbed molds to the wearer's foot, creating a personalized fit that enhances comfort. Additionally, the brand offers a range of widths and sizes, catering to a diverse audience.
Comfort Features
Birkenstock's commitment to comfort extends beyond its signature footbeds. The brand utilizes high-quality materials such as premium leather, suede, and synthetic fabrics in its construction. Adjustable straps, buckles, and closures allow for a customizable fit, accommodating various foot shapes and sizes.
The arch support in Birkenstock sandals is another key feature contributing to their comfort. The brand recognizes the importance of supporting the foot's natural arch, which can alleviate discomfort and fatigue associated with prolonged standing or walking.
Fashion Appeal
While initially embraced for their comfort, Birkenstock sandals have evolved into a fashion statement. The minimalist design and distinctive silhouette have caught the attention of fashion enthusiasts and designers alike. Birkenstock sandals effortlessly transition from casual outings to high-fashion runways, exemplifying their versatile appeal.
Collaborations with renowned designers and brands have further elevated Birkenstock's fashion status. Limited-edition releases featuring unique materials, patterns, and colorways have attracted a new generation of style-conscious consumers.
Enduring Popularity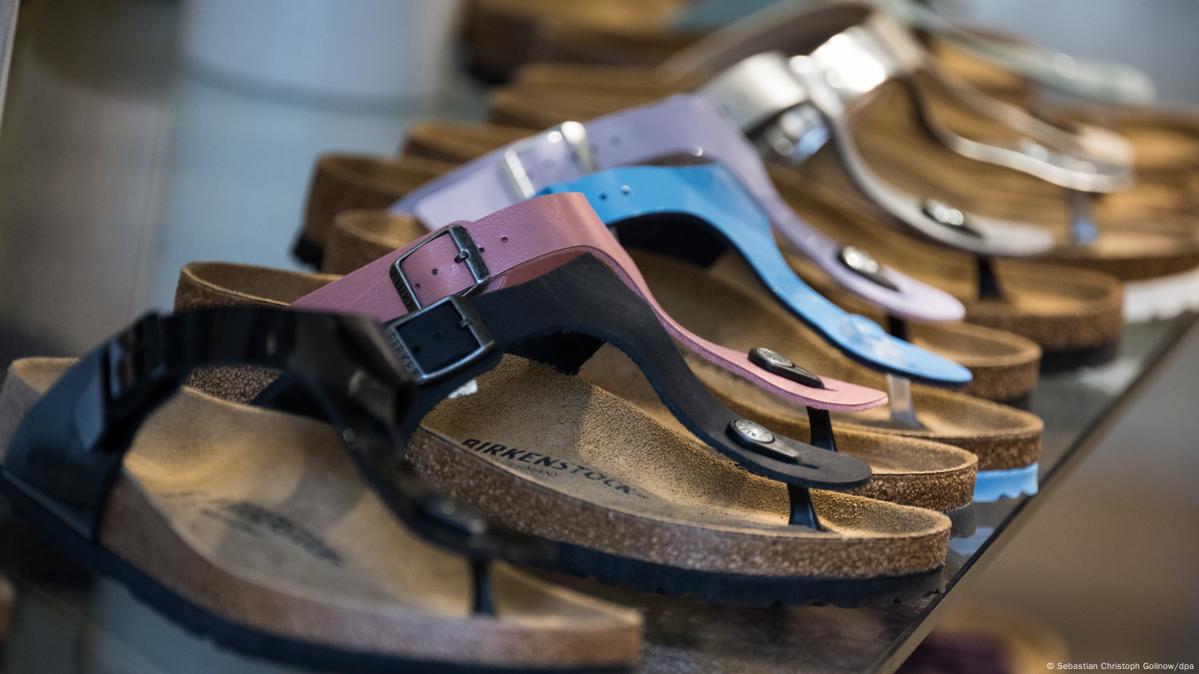 Birkenstock's enduring popularity can be attributed to its ability to adapt to changing trends while maintaining its core principles. The brand has successfully bridged the gap between comfort and fashion, appealing to a broad demographic that values both style and well-being.
The rise of sustainable fashion has also played a role in Birkenstock's continued success. The brand's commitment to using environmentally friendly materials and production processes resonates with consumers seeking ethically produced footwear.
Sustainability and Quality
In an era where sustainability and ethical production are gaining importance, Birkenstock has been ahead of the curve. The brand's commitment to using high-quality, environmentally friendly materials and ethical manufacturing practices has earned it a loyal following among eco-conscious consumers.
Birkenstock uses premium materials such as cork, leather, and suede for its products. Cork, in particular, is a sustainable and renewable resource, harvested without harming the tree. The cork footbed, a hallmark of Birkenstock's design, is not only comfortable but also eco-friendly. Additionally, Birkenstock is known for its durable construction, with many customers reporting that their Birkenstock sandals last for years, making them a wise investment.
The Versatility of Birkenstock
One of the most appealing aspects of Birkenstock is its versatility. Whether you're lounging at the beach, going for a casual stroll, or dressing up for a summer evening, there's likely a Birkenstock style that suits your needs.
Classic Arizona Sandal: The Arizona is perhaps the most iconic Birkenstock style, featuring two adjustable straps for a customizable fit. It's perfect for everyday wear and pairs well with jeans, shorts, or dresses.
Gizeh Thong Sandal: The Gizeh is a thong-style sandal with a sleeker look. It's a popular choice for those who want a bit of elegance with their comfort.
Boston Clog: For those looking for a closed-toe option, the Boston clog offers the same legendary footbed in a stylish and cozy design. It's great for cooler weather or indoor wear.
Eva Collection: Birkenstock's Eva collection is made from lightweight and waterproof materials, making it ideal for the beach, pool, or any activity where water is involved.
Collaborations: Birkenstock's collaborations with fashion designers have produced unique and trendy variations, such as the Birkenstock x Rick Owens or Birkenstock x Valentino collections.
Birkenstock Beyond Sandals
While Birkenstock is most famous for its sandals, the brand has expanded its product line to include boots, shoes, and even socks. These offerings retain the same focus on comfort and quality, making Birkenstock a year-round choice for footwear.
Boots: Birkenstock boots are designed with the same footbed technology as their sandals, ensuring all-day comfort. Whether you prefer ankle boots or knee-high styles, Birkenstock offers options for various seasons.
Shoes: Birkenstock shoes come in a variety of styles, from sneakers to slip-ons. These options are perfect for those who want the comfort of Birkenstock in a more traditional shoe format.
Socks: Birkenstock socks are designed to complement their sandals, offering additional comfort and support. Made from high-quality materials, they enhance the overall Birkenstock experience.
Conclusion
In conclusion, Birkenstock stands as a testament to the synergy between comfort and fashion. Its rich history, commitment to quality, and innovative design have cemented its place in the footwear industry. From its humble beginnings in a German village to its current status as a global fashion icon, Birkenstock continues to redefine the boundaries of comfortable and stylish footwear. Whether you're a seasoned Birkenstock enthusiast or a newcomer to the brand, the perfect blend of comfort and fashion awaits in every pair.
Latest posts by Hershel Reyes
(see all)